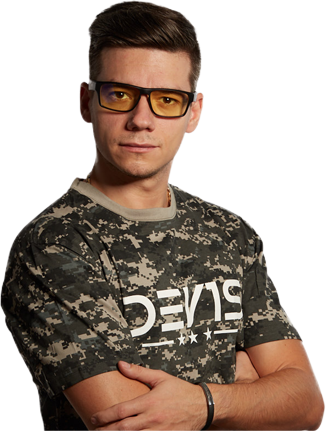 The answer is simple, every player sometimes needs an unfair advantage! And you can get the right one thanks to our sophisticated glasses. At the moment, more and more professional players are discovering the magic of "gaming" glasses. In addition to comfort and performance improvements, they also provide them with perfect eye protection. Let's say, sight is one of the most important things we have not only in gaming. Join these players to get your own legal "cheat".
Our gaming glasses will give you everything reminded of a nice price that is really significantly lower than the competition. And the absolute cherry on the cake is that by purchasing DEV1S you actively support our game scene. Buying, among other things, you get the perfect comfort behind the monitor or quietly in front of the TV. Yes, they are also suitable for televisions! Whether to game consoles or even a normal program. The greatest convenience you'll find in User type, a combination of great contrast in games and comfort in Gamer, and if you are a laborer, doing graphics or cutting videos, Designer will be the best choice for you.

BETTER REACTIVE TIME
Special DEV1S Technology of glasses with the patented QVision lens delivers maximum visual clarity, contrast perception, and better ability to see objects against the background, resulting in a reduction in reaction time. This is averaged over 0.25 seconds. However, when wearing DEV1S gaming glasses, you will be able to get into the game in less time, which can be a key factor in your winnings in key moments, especially in action games.

HIGHER PERFORMANCE
During wearing DEV1S glasses, light transmission through the protective layer will be regulated so that your eye muscles do not have excessive stress. This reduces the risk of gaming and keeps you performing even longer.

BLUE LIGHT FILTRATION
All DEV1S glasses feature high-quality melanin material that guarantees 100% UV protection and high blue light filtration to avoid eye fatigue for long periods before the monitor.

TESTED BY PROFESSIONALS
We test all of our products in cooperation with the best players from Slovakia and the Czech Republic to ensure maximum comfort while wearing and, of course, also improving performance in the game. Therefore, besides Ivan "Dev1" Lazarov himself, he was the second best CS: GO player in 2015 Ladislav "GuardiaN" Kovács from the Natus Vincere team, with whom we also got a special mouse pad that bears his name.